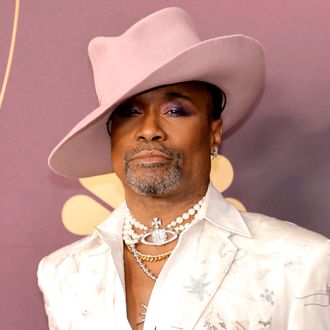 Photo: Kevin Winter/Getty Images
Disney CEO Bob Iger had the lowest possible bar to clear when he returned to the C-suite: just be better than the universally loathed Bob Chapek. More of a chalk line in the dirt, really. But then Iger went on CNBC and called striking actors' and writers' demands for labor protections "just not realistic" despite making $27 million in salary and stock options annually (down from $49.5 million when he was executive chairman in 2021), which was tone-deaf enough to galvanize striking workers even more. Now, even more Disney workers are unionizing. And even scarier, he's got Billy Porter reading him for filth in the British press.
In an interview with the Evening Standard, the Emmy-, Grammy-, and Tony-winning Porter, who starred in Pose on FX (owned by Disney), spoke passionately about how contracts need to be updated for the streaming age, saying, "To hear Bob Iger say that our demands for a living wage are unrealistic? While he makes $78,000 a day? […] I don't have any words for it, but: Fuck you. That's not useful, so I've kept my mouth shut. I haven't engaged because I'm so enraged." Porter also said, "I have to sell my house" because of the strike.
"And I don't know when we're gonna go back [to work]. The life of an artist, until you make fuck-you money — which I haven't made yet — is still check to check. I was supposed to be in a new movie and on a new television show starting in September. None of that is happening." Seeing a high-profile, celebrated actor come clean about the financial realities of working in the industry in the 21st century is a helpful illustration of how bad it must be out there for working actors with less acclaim and success than Porter. "They think we're entitled,"he said. "Meanwhile, we're getting six-cent checks. It hurts my feelings."